Engaging with Students across Forsyth County
In 2022, Every Drop Counts impacted:
655+ students across 7 Title 1 schools in Winston-Salem/Forsyth County
100% of students participating demonstrated increased knowledge about energy consumption and conservation
100% of teachers participating said they would recommend the program to other teachers and classrooms.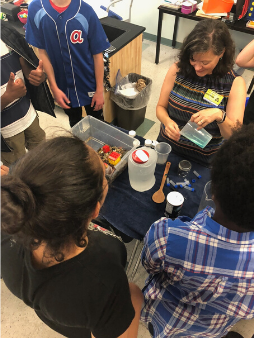 Quotes about Every Drop Counts
"The presentation was interesting and informative. It touched on some important sub-topics, such as: water pollution & protection, the water cycle, and global water habits/practices. The activities were interesting and interactive"
Donovan Kent, Carter G Woodson School
"I loved the program, it was a well of knowledge for the students and some great review as well!... I really enjoed the various demonstrations and the students loved them as well. They were asking if we could make one later in the year!"
Noah Henley, Wiley Middle School
"Loved the presentation & my kids enjoyed it too!... I appreciated you providing a worksheet for them to work on. The demos were especially fun!"
Alison Wright, Early College of Forsyth