Piedmont Environmetal Alliance is dedicated to promoting environmental policies and practices at the local level to help drive big, systematic change in our region. Read below to learn about some of these efforts. 
100% Renewable Energy Resolutions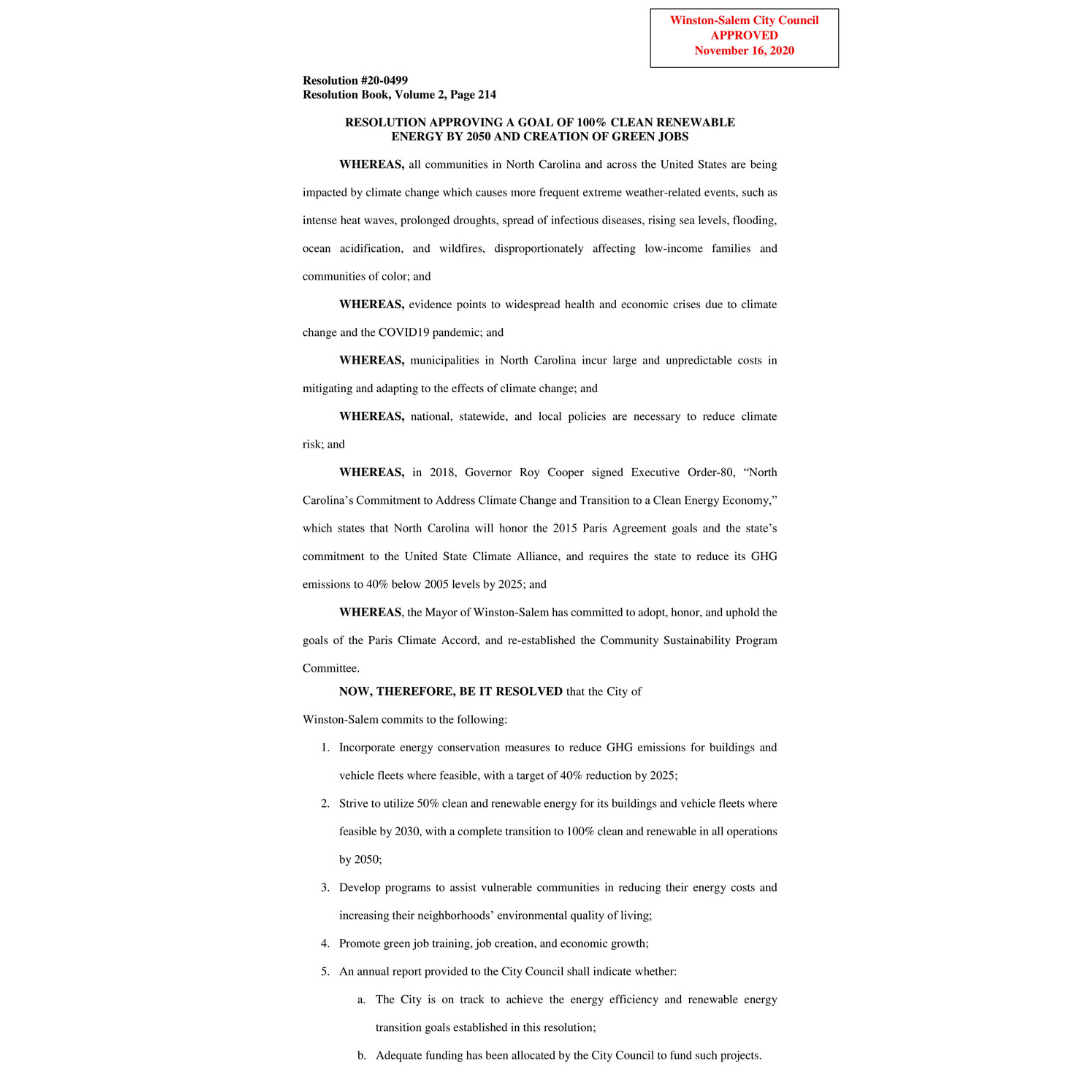 In 2020, PEA joined forces with advocates from Sierra Club Foothills Group, Citizens Climate Lobby, NC Climate Solutions Coalition, the Poor People's Campaign, and The Climate Reality Project WS to pass resolutions in both Forsyth County and the City of Winston-Salem to achieve 100% renewable energy by 2050. The county-wide resolution was passed in March 2020, followed by a city resolution in November 2020. The resolutions call for a transition to 100% renewable energy and the creation of green jobs. The resolutions also aim to address environmental justice and promote economic growth with previsions to assist vulnerable communities, add jobs to the local economy, and set goals for renewable energy sector growth. Click here to read the full City of Winston-Salem resolution.
Are you a resident of the Piedmont Triad who wants to pass a resolution like this in your city or county? Countact us to learn more about how PEA can support your efforts.
Eliminating Styrofoam Lunch Trays in WS/FC Schools
In 2019, a group of concerned parents approached PEA about a big problem they saw at their childrens' schools: styrofoam lunch trays. Not only do styrofoam lunch trays contribute to the huge global problem of single-use plastic, they also release harmful chemicals when exposed to heat. PEA took action by convening members of the Winston-Salem/Forsyth County school board and urging them to eliminate styrofoam lunch trays accross the district. After a successful pilot at Speas Elementary School and more than 175 messages of support collected by PEA from community members, the school board moved to eliminate styrofoam from lunch rooms district wide, transitioning to all reusable and compostable lunch trays instead.
Are you a resident of the Piedmont Triad who wants to eliminate styrofoam trays in your district? Contact us to learn more about how PEA can support your efforts.