Submitted by

Mackenzie Howe

on November 27, 2018 - 6:02pm
This past week, we sat down with Helen Peplowski, the Sustainability Manager for the City of Winston-Salem to hear a bit more about her role and the projects and efforts that Winston-Salem is engaging in to reduce its environmental impact and promote sustainable practices and awareness. Helen has an interesting background in environmental work and study that has allowed her to bring a thoughtful perspective to the environmental issues that Winston-Salem faces.
How did you become interested in the environment and sustainability?
I was an Environmental Studies major at Elon University which gave me a broad overview of many environmental topics. However, I was not interested in sustainability specifically until working for the city of Winston-Salem. I attended an annual sustainability meeting and was able to be exposed to and network with people, which in turn, sold me on the sustainability aspect of environmental work.
What do you do as the Sustainability Manager of the city of Winston-Salem?
I truly never have the same day. I work a lot with recycling in Winston-Salem and Making Winston-Salem Beautiful. Typically I receive a lot of calls regarding recycling and how to engage in that activity better in Winston-Salem. I also work on social media and promoting various news stories that have to do with either the environment or sustainability and Winston-Salem.
What are specific initiatives/projects that the city of Winston-Salem is working on in order to encourage sustainability and environmental awareness?
We have a community sustainability program committee that we have been working on re-establishing. It acts as an advisory board to drive various future sustainability initiatives. We look for suggestions and ideas from this committee and they help us identify the low-hanging fruit in terms of easier sustainability initiatives that we could potentially employ. Interestingly, the city of Winston-Salem just recently became a Bee City, so we have been planning various initiatives that promote that. In the future, we'd like to engage more education and outreach and think about different ways in which we can teach sustainability at a local level.
What issues do you think would be important for the city of Winston-Salem to focus on in the future?
This is a tough question for me to pinpoint, however, a lot of what we'd like to focus on in the future will be around recycling, litter and picking up trash because those are easy changes that we can make as a city. Long term, we would love to have more of an emphasis on renewable energy and solar around the city. Duke energy is starting to open up more programs for residents to be involved in clean energy, so we would love to have our residents participate in that. Cultivating more of an emphasis on electric vehicles would be another great way to promote sustainability in our city.
What is your favorite part about working for the city of Winston-Salem and perhaps the most frustrating?
One of the most frustrating aspects is understanding that it is a slow process and it takes a long time for things to happen. However, one of the best aspects of the job is that I am the first person who's had this job so I can really personalize the projects and goals that I want to work on.
Do you collaborate with any non-profits/businesses on your projects? If so, who and how?
Recently, we haven't implemented any initiatives with local non-profits and businesses, however, we'd love to in the future. Piedmont Environmental Alliance is a huge aspect of being able to leverage integration and collaboration with the public that the city of Winston-Salem doesn't necessarily have. We would love to utilize our partnership with them a lot in the future and come up with more ways in which students can be involved in sustainability initiatives within the city.

Want to get involved with The City of Winston-Salem and PEA's upcoming community initiatives? Join PEA's Community Engagement Committee. Send an email to info@peanc.org for more information about our next meeting.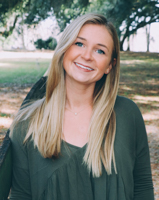 Mackenzie Howe is a senior at Wake Forest University and is a fall intern for PEA. She is passionate about all environmental issues, and is majoring in Environmental Studies and Sustainability with a minor in Entrepreneurship and Social Enterprise.