Submitted by

John Williams

on December 18, 2014 - 4:38am
I'm on a personal quest to build an Urban Homestead. Urban homesteading is about taking a step backwards and living a simpler, purposeful life but doing it in a city environment – surrounded by the modern world.
When I saw chickens in the back of a friend's truck I mentioned that in the spring I wanted to build a portable chicken coop.  He simply asked me, "Why wait?" He had an order of pullets coming his way and asked how many I wanted. I replied four and followed with, yah-but, planning and building a coop would take time. He offered to help and it was time for me to step up, put up, or shut up!
I started by searching google, Pinterest and Youtub for design ideas, ultimately deciding to incorporate elements from a few designs, keeping it as simple as possible.  I estimated the cost of materials and design and got to work.
Tip: Don't forget to check city ordinances to determine what is allowed in your city - including where your coop can be located and how many animals you're allowed to have.
I wanted to build a modular system using materials that were lightweight and outside weather tolerant. The length and width of the rolls of wire fencing and mesh influenced the framing and dimensions of the coop I built.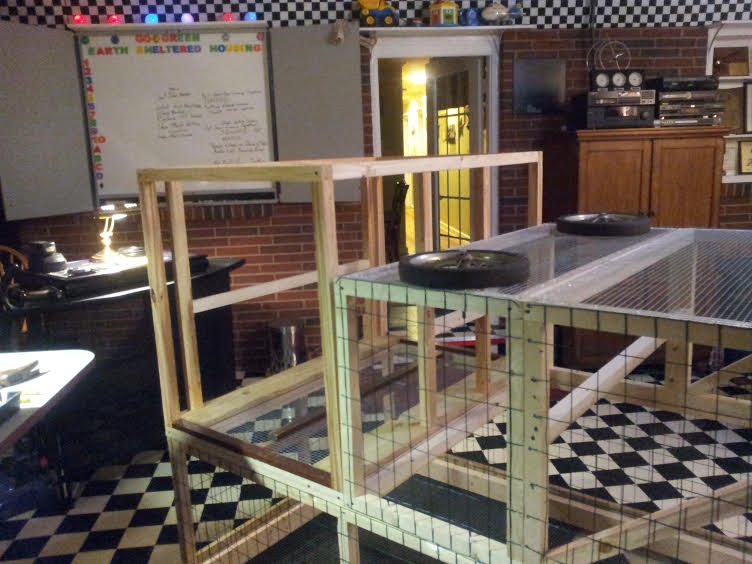 I wanted clever elements, like a sliding door that opens and closes via long spooled string connected to window in my house.  This way, I could open the window and pull the string to open the hen house, rather than going outside in the cold. I also made a removable floor for the hen house over ¼ x ¼ wire mesh to help with summer ventilation and ease of cleaning.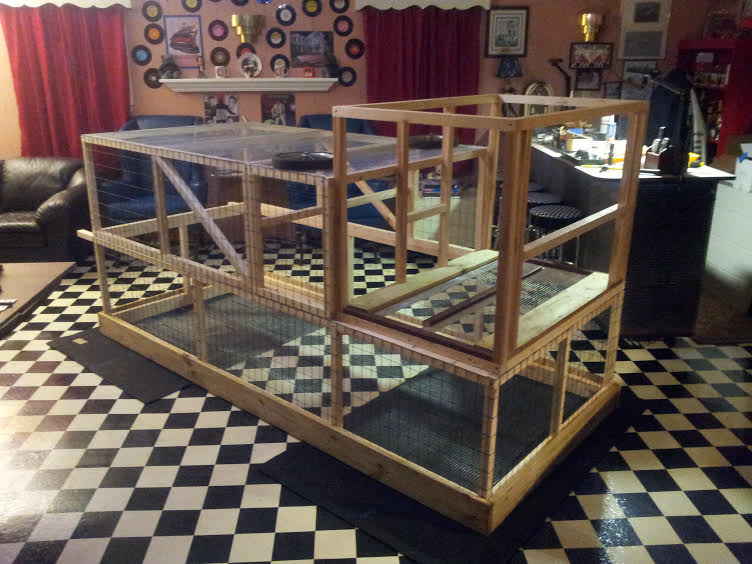 I made the nesting box as a simple "lift off" design for easy assembly and cleaning. The top of hen house is a quick attach design with overhangs. The pen's bottom module is two feet high (due to the wire of the mesh) and the perimeter is equal to the length of role. I elevated the bottom off the ground by an inch with treated deck boards and added an edge using non-treated 2x4s. The bottom of the base section also has mesh on it to prevent outside varmint entry.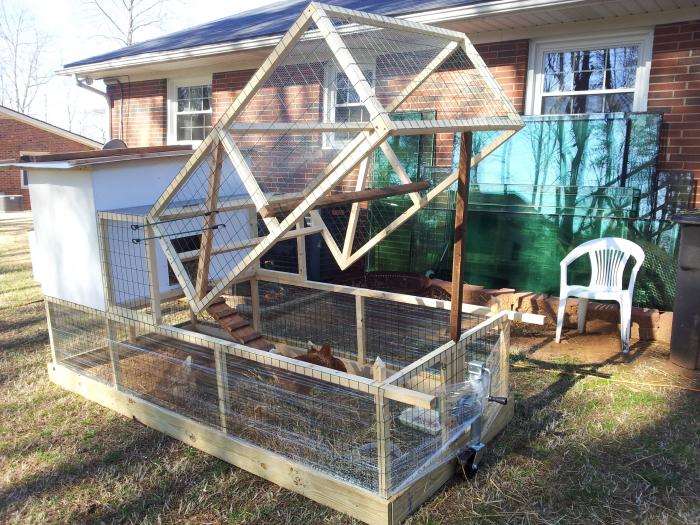 The top module of pen is two feet high and has hinging so it can be lifted up easily and I can step in the pen to clean it out. The hinged top half of pen has handles on it and corner guides for keeping it aligned at all times when closed. The hen house sits at one end of the base while the top half of pen extends from the edge of house to the end of the base. The width of the whole unit, pen and hen house, is 4 feet wide matching the standard width of wire mesh material. I took advantage of a tented piece of Plexiglas I had on hand for the hinged access door of hen house so I could see in and they could see out. All framing from the 2x4 base up is low cost 2x2 pine. The outside of the hen house is made from white finished water resistant material used in bathrooms for a prefinished look.  The top is made of corrugated fiberglass allowing ventilation. During the winter I surrounded the lower section of the coop with shrink wrap as a wind break and removed in spring.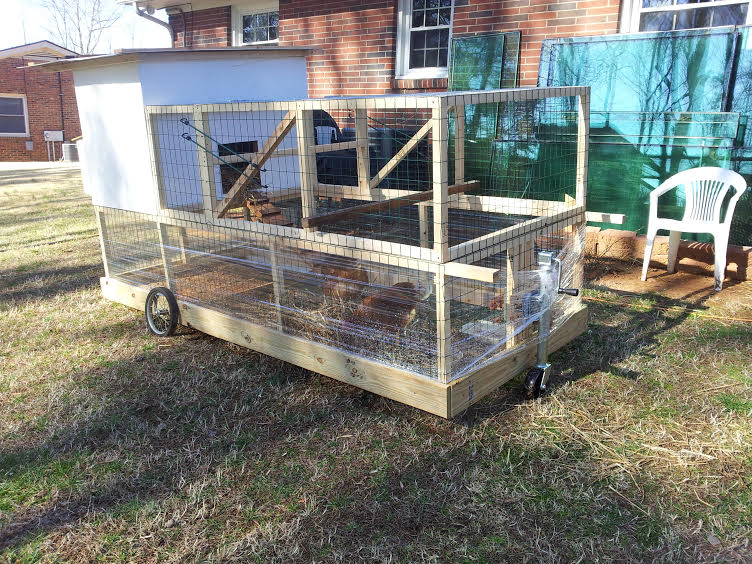 To make the coop mobile, I added two spoke hard rubber wheels to one end and added a second wheel that is a swivel trailer jack to the other end.  The idea was to have it at the light end of pen and the other two wheels located at the balance point of the whole unit. This way the front could be jacked up high enough to place the two side wheels, with a long carriage bolt as an axle, on each side of coop. Then lower down the front jack and now it is on three wheels and easy to move. This worked great. When spring came I moved the coop under the canopy of shade trees.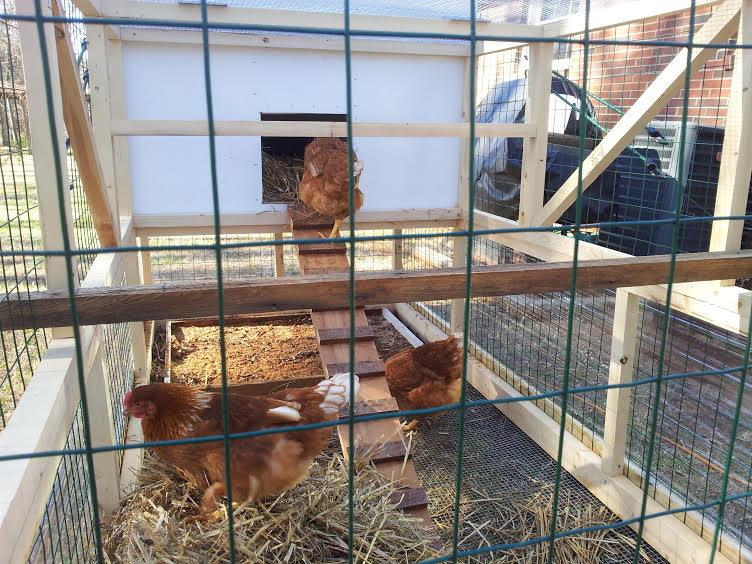 In the end, the project cost about $250 in materials and a weekends worth of time.  I have five healthy and happy chickens who each produce an egg each day.  Eggs have become a daily part of my diet, and a great source of protein, significantly reducing the need to purchase any expensive meats.  Stay tuned for more articles on how and why I'm building an Urban Homestead.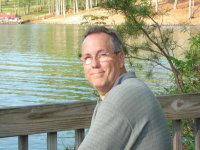 John Williams is originally from Iowa and moved to Kernersville in 1995.  His passion for living a simpler life and creating sustainable structures began as a child when he would build treehouses and even lived in an abandoned underground fresh water reservoir as a curious teenager. In 1979, John designed and built award-winning Passive Solar Earth Sheltered Housing, now commonly known as Green Roofs. John continues to pioneer the reawakening of urban and rural homesteading focusing on self-reliance and sustainable simplicity. He is able to demonstrate his knowledge of environmental topics through several local Meetup.com groups. John is the organizer of Sustainable Simplicity and co-organizer and member of several other meetup groups. To learn more about John, contact him at DrPrepper27@gmail.com.