Submitted by

Jessica Mendez Rowe

on November 14, 2018 - 7:34pm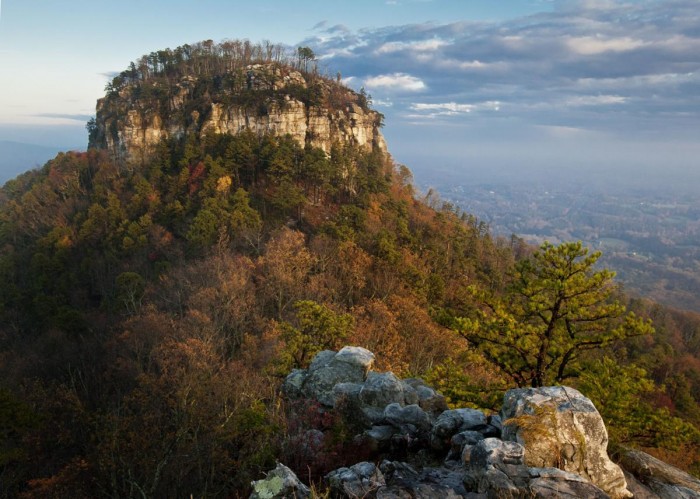 Today is yet another wonderful reminder of how fortunate we are to call North Carolina home. Those of us who reside in the piedmont have access to a wide range of outdoor spaces from mountains to coast, including State Parks with maintained hiking trails.
Did you know that there are 41 State Parks, 10 National Parks, and 4 National Forests in North Carolina?
Here is a list of some of our favorite nearby places to unplug and enjoy walking in nature, curated by PEA volunteer Una Wilson and intern Mackenzie Howe.
 
Flat Top Tower
Moses H. Cone Memorial Park, Blowing Rock
Difficulty:⭑⭑
Mileage: 5.3 miles
The Moses H. Cone Memorial Park located on the Blue Ridge Parkway is famous for its winding carriage trails, historic manor, and beautiful scenic views of the Blue Ridge Mountains. The trail is easy to navigate and well marked.
 
Moore's Knob Trail
Hanging Rock State Park
Difficulty:⭑⭑⭑
Mileage: 4.3 miles
Though a more difficult terrain to hike, the trail leads to the top of Moore's Knob, which offers a stunning 360 view of Hanging Rock, Sauratown Mountain, and Pilot Mountain in the distance. This particular trail in Hanging Rock State Park is not very crowded, but if you are interested in an easier or more popular hike, there are many others in the Hanging Rock area.
 
Ledge Spring Trail
Pilot Mountain State Park
Difficulty:⭑⭑
Mileage: 2.6 miles
This trail is heavily trafficked year-round, and for good reason, too. Nestled among the gorgeous pilot mountain rock formations and gorgeous North Carolina native wildflowers, the views from this hike are sure to blow your mind.
 
Stone Mountain Loop Trail
Stone Mountain State Park
Difficulty:⭑⭑⭑
Mileage: 4.5 miles
This hike takes you to the top of the Stone Mountain Bulge, past the beautiful Stone Mountain waterfall, and explore the historic Hutchinson family's homestead, occupied for a century from 1855 to 1955. Heavily trafficked but fairly easy to navigate, this hike is a wonderful way to experience native wildlife, incredible views, and the fun of being outdoors!
 
Erwin's View Trail
Linville Gorge Wilderness Area
Difficulty: ⭑
Mileage: 0.8 miles
This wide, well-maintained trail features three spectacular views of Linville Falls and the Asheville mountainous region. Because of the breathtaking scenery and accessibility, this trail can get pretty crowded. It is recommended to visit around the middle of the week to avoid traffic.
 
Guilford Courthouse National Military Park
Difficulty: ⭑⭑
Mileage: 2.5 miles
This trail network takes you through all eight historical sites at the park, including the site of the March 15, 1781 battle of Guilford Courthouse, a turning point in the Revolutionary War. As you pass the various monuments and battle locations. The area is especially beautiful in the fall and the leaves light up the walkway with brilliant fiery hues.
 
Jomeokee Trail
Pilot Mountain State Park
Difficulty: ⭑⭑
Mileage: .8 miles
This is a moderate trail with rock steps and crosses the gap to the Big Pinnacle, then makes a loop around the base and merges into the same trail, to return across the gap. There are rare and interesting plants along this trail, as well as views of the impressive Pilot Mountain cliff face.
 
Black Jack Ridge Trail
Stone Mountain State Park
Difficulty: ⭑⭑
Mileage: 1.5 miles one-way
This trail follows an old road bed through heavily wooded areas. In the wintertime, this strenuous hike offers fantastic views of Stone Mountain.
 
Salem Lake Trail
City of Winston-Salem
Difficulty: ⭑
Mileage: 7 miles
Salem Lake Trail encircles Salem Lake in Salem Lake Park. The trail is one of the most popular outings for exercise in the area, and you can see equestrians along with runners, walkers and bikers.
 
Mount Mitchell Trail
Mount Mitchell State Park
Difficulty: ⭑
Mileage: 6 miles
Today, this is the trail mainly used to climb Mount Mitchell which is the highest peak in the Appalachian Mountains. The trail begins at the Black Mountain Campground (operated by the U.S. Forest Service) and ends at the summit. This 6-mile trail requires about 4.5 hours of strenuous hiking to reach the top and 3.5 hours to return.