Submitted by

Raven Robinson

on September 20, 2023 - 3:22pm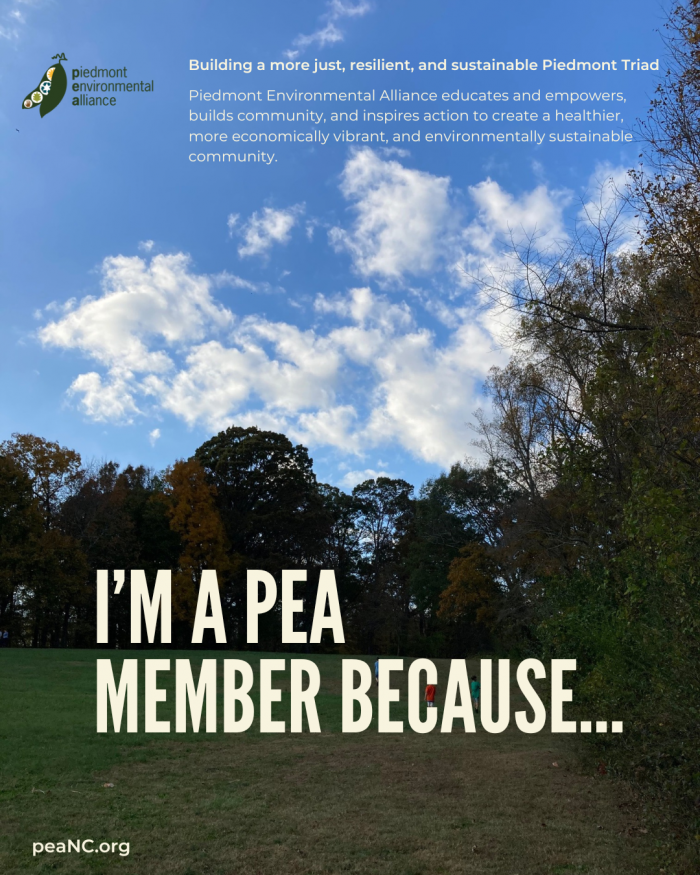 Welcome to PEA's Fall Membership Drive – a time of reflection, celebration, and an opportunity for our members to renew their commitment to our vital cause. As we embark on this journey, we acknowledge that our impact across the Piedmont region is made possible by the unwavering support of our dedicated members. In this post, we'll explore three impactful ways you can support our annual membership drive and help us shape a more sustainable future for our community.
Amplify Our Message on Social Media:
Throughout our membership drive, we'll be sharing compelling stories about our work, its transformative impact, and why membership matters. Your simple actions on social media can make a significant difference. When you come across our posts on platforms like Instagram and Facebook, engage with us by liking, sharing, and saving our content. Your engagement not only boosts our reach but also encourages others to join our cause. Together, we can create a ripple effect of positive change throughout the region.
Share Your PEA Journey:
The influence of PEA extends far beyond what we can observe from our office. We often hear inspiring stories from members who have experienced personal growth, increase in civic engagement, and sustainable living transformations through their involvement with PEA. If you have a story to tell, we invite you to share it with us. Your experiences may serve as a source of inspiration for others considering membership. 
Click here to share your PEA journey and the impact it has made on your environmental actions. Your story might be featured on our social media, newsletters, or even at our annual party.
Bonus: Share Your Story on Social Media:
We also encourage our members to take their stories to Instagram or Facebook. Share your candid moments from the Earth Day Fair, showcase your eco-friendly choices at home, or create a short video explaining why PEA holds significance for you, in our community. Sharing your personal narratives adds a familiar face to our mission, making it more relatable to others who are interested. Here are some downloadable images to get you started.
Invite Friends to Join:
Extend the reach of our mission by inviting friends and family to become PEA members. Whether through an email, text message, or a heartfelt letter, explain why PEA matters to you and how it contributes to building a more resilient, just, and sustainable community. You can direct them to our membership page at peanc.org/become-a-member, making it easy for them to take action.
Nearly two decades ago, PEA was founded by a group of passionate friends who identified a gap in our region and sought to make a difference. Today, that same spirit of connection, collaboration, and camaraderie continues to drive us forward. We deeply appreciate the unwavering support and enthusiasm of each member during our 2023 Membership Drive. As you spread the word and engage with our mission, don't forget to renew your membership and continue to be a part of our journey towards a more sustainable future. Together, we can achieve remarkable change.
Tags