Submitted by

Kristin Wiggins

on May 21, 2015 - 6:45am
Piedmont Environmental Alliance (PEA) launched its new hands-on learning program, Energy Explorers, at East Forsyth Middle School, on Friday, May 15 when it presented the program to nearly 200 7th graders. The program, funded in part by grants from Wells Fargo and Great Outdoor Provision Company, demonstrates how energy is created and stored, the difference between renewable and nonrenewable energy resources, and the importance of energy conservation.The program is available free of charge to schools throughout the Piedmont Triad.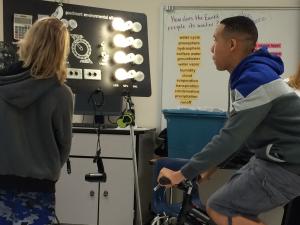 "We wanted to develop a program that was interactive," said PEA Executive Director Kristin Wiggins. "With each piece of the Energy Explorers presentation, the students are able to get out of their seats and interact with the equipment, test their assumptions about energy, and learn through hands-on discovery. We are excited to hold our first in-school presentation at East Forsyth Middle."
At the center of the presentation is Pedal Power – a human-powered energy bike that demonstrates how electricity is generated and how much energy it takes to light a light bulb or power other household items including a fan, hairdryer or radio. As more things are turned on it becomes harder for the person pedaling the bicycle to provide power to the display. The Pedal Power display shows students that not all light bulbs are created equally. For example, the bike will easily illuminate a row of LED light bulbs, but will require much more energy to power incandescent bulbs.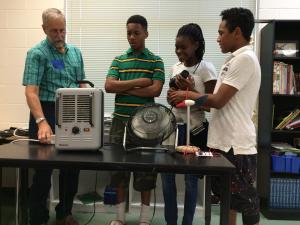 In addition to Pedal Power, Energy Explorations examines the difference in the amount of energy pulled by various household items. Using Kill-a-Watt meters, students will measure the watts pulled by a string of standard Christmas lights and a LED string of lights, a cell phone or tablet charger, laptop, space heater, hair dryer and more.  Students will learn about the many items in our homes that pull energy even when they are not in use, something commonly known as Energy Vampires. In addition, students explore renewable energy resources by using wind energy kits, a solar powered flash light and battery charger.
The lessons from PEA's Energy Explorations program inspire and educate students about energy efficiency and conservation, the environmental impact of traditional sources of energy and a booming renewable energy industry. The presentation reinforces literacy, math and science skills, supports the North Carolina Standard Course of Study (Common Core), and is provided to schools and libraries at no charge.  
The mission of Piedmont Environmental Alliance (PEA) is to inspire people to make choices that protect and restore the environment. PEA catalyzes change by working with community leaders to identify issues of common concern and by educating the public on these issues. PEA, along with its members, works toward the common commitment of building an environmentally sustainable community and has become the leading regional source of information and inspiration on environmental sustainability. PEA supports local environmental groups and green businesses by promoting their work, products, and services, and facilitating networking opportunities.
Tags