Submitted by

Wendi Hartup

on October 15, 2014 - 5:57am
Did you know that typical landscaping practices could actually harm rivers and creeks? Most people that live by water resources like to remove all the landscape for a clear view. Why not, if you live near the water, you want to see it! Much like with gardening, living around water brings a sense of calm and relaxation. Landscaping around a waterway with lawn and mowing all the way to the banks increases stormwater runoff. This runoff carries fertilizer, pesticides, sediments, and pet waste from lawns directly into waterways, polluting the aquatic environment. Landscaping to the water also increases bank erosion (Bermuda grass and others are NOT deep rooted), increases the potential for flood damage, and decreases the available habitat for wildlife. Scenic natural views are eventually lost as well because our most common fix, dumping big chunky rock (aka riprap), acts more like a bandage...it is not a permanent solution. Rock could last a few years but it all depends on the amount of flow and how much water is able to move in between the rocks.
Some people would not believe their window or deck views as well as those from the water would be enhanced by putting plants back along shorelines. By retaining or restoring native shoreline plantings we improve our immediate environment as well as the overall health of our waterways. While the technical terms used by the State are vegetated areas and riparian buffers, I think a better term is shoreline gardening. This area next to waterways should be filled with a mix of native trees, shrubs and perennials.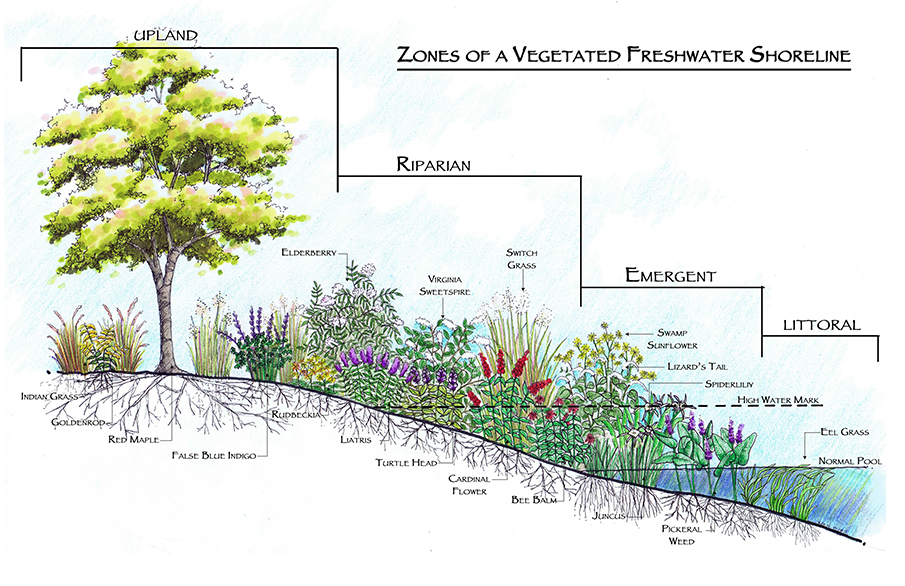 Benefits of Shoreline Gardens
Slows stormwater runoff
Absorbs excess nutrients from fertilizers/pesticides as well as other pollutants
Allows sediments to settle out before clouding up a waterway
Costs less to maintain than turf (no need to fertilize, water, prune or chemically control)
Stabilizes shoreline soil to reduce erosion along the banks
Cools stormwater runoff heated by sunlight on hard surface.
Shades the ground to reduce surface heating
Provides habitats for many types of wildlife (butterflies, hummingbirds, frogs, dragonflies)
Adds aesthetic value to property
A homeowner can plan a landscape to frame desirable views, screen unwanted views, and enhance what others see from the water. With buffers on both sides of the water, the view from each bank is primarily of trees and other vegetation and not of lawns and houses. So now you are creating a sense of privacy and atmosphere that helps to reduce noise pollution. Not only noise pollution but outdoor activities can be more enjoyable and healthful in the shade beneath trees.
So how can you plan a shoreline garden? Think about possible concerns associated with a buffer along your waterway.
View:Consider the views you want to maintain and frame a "view corridor" from your home with plantings composed of small trees, shrubs, and/or native grasses (but not lawn) that won't obstruct your view.
Attractive Foliage:Do you want to attract certain animals, such as hummingbirds or butterflies? Do you want to keep nuisance animals away, such as deer, geese, and mosquitoes?
Plant Type:Do you want flowering plants and/or evergreens? What time of year do you want to see blooms?
Plant Location:Determine where you want different plant types. Where do you want shrubs and where do you want trees, flowering plants, or native grasses?
Area:Plant a 10-20 foot border of low-maintenance plants between your lawn and shoreline to absorb nutrients and provide habitat. To really reduce stormwater runoff impacts and help aquatic life, make the area a 30-foot buffer.
Now is a great time to consider an area to put in a shoreline garden. Believe it or not, there are many beautiful native species that can attract all types of butterflies with showy blooms.
Just a few plants I like to use in a shoreline garden...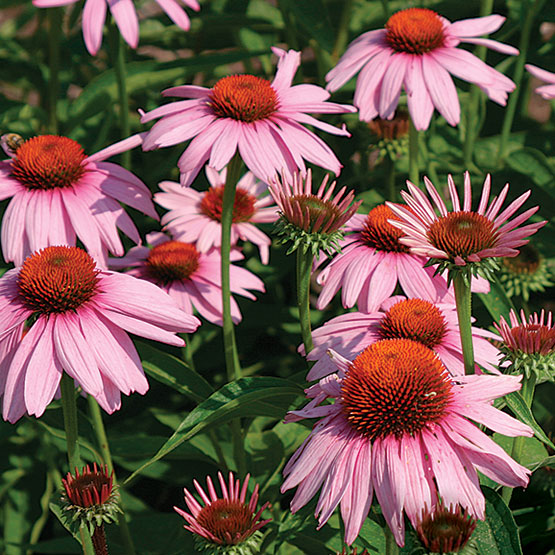 Serviceberry - Amerlanchier arborea
Spicebush - Lindera benzoin
Highbush Blueberry - Vaccinium corymbosum
Carolina Silverbell - Halesia tetraptera
Buttonbush - Cephalanthus occidentalis
Inkberry - Ilex glabra
Black-eyed Susan - Rudbeckia hirta
Purple Coneflower - Echinacea purpurea
Copper Iris - Iris fulva
Juncus - Juncus effusus
So get to work planning appropriate plants, removing grass, preparing the soil and planting. The efforts made at each home can lead directly to increased property values, lower yard maintenance costs, and reduce chance for property damage from the elements. Remember our municipal drinking water comes from our surface waters. Want to learn more at a workshop and get some hands-on experience?Check out our website for plant listsor contact Forsyth County Cooperative Extension.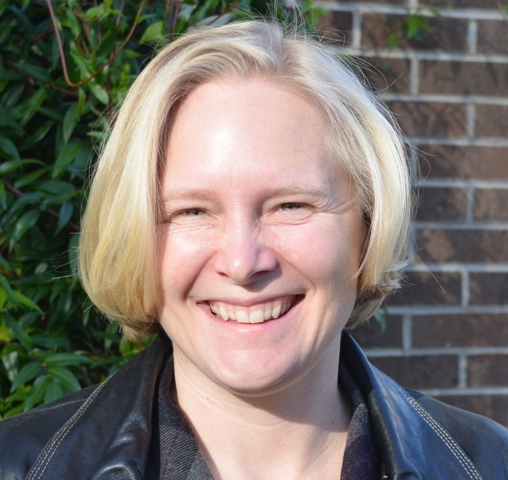 Wendi Hartup has worked for NC Cooperative Extension in Forsyth County since 2005. She educates citizens on environmental issues, wildlife control and solutions to stormwater runoff. You may find Wendi in a local creek looking for indicator organisms, instructing how to fix erosion with a rain garden, identifying aquatic weeds or advising how to get rid of creepy crawlies. Prior to Extension, Wendi spent 9 years teaching Alabama citizens how to evaluate physical, chemical and biological characteristics of water. Wendi has an M.S. in Fisheries Conservation from Auburn University and a B.S. in Marine Biology from Troy University. To learn more about Wendi and her work contact her atwendi_hartup@ncsu.edu.
Tags