Submitted by

Jamie Maier

on November 3, 2016 - 1:56pm
PEA is excited to feature delicious Foothills beer at our upcoming Annual Party on November 15, generously provided by Foothills Brewing. We dive deeper into Foothills Brewing, their connection to the community and vision for the environment in this short interview with "marketing guy" Ray Goodrich.
 
The PEA Annual Party is about celebrating the past year's successes and looking forward to what's coming next. What is Foothills proud of this past year and what are you excited about in the coming year?
RG: It's been a very good year at Foothills – we just celebrated our all-time best sales month in October! We also went through a major brewery expansion that increased our capacity by 41%. And as always, we had a lot of fun brewing a lot of great beer.
Foothills Brewing has been a great partner and supporter of PEA. Why do you support the organization and what are you excited to see PEA accomplish next year?
RG: Craft beer is very dependent on the work of organizations like PEA – the environmental education services they provide are creating generations of well-informed, conscious consumers. Excited to see them continue to engage the Piedmont community in caring for and managing our natural resources.
What environmental or "green" changes would you like to see in the Piedmont region?
RG: I think the one thing we'd like to see is a continuation of increased individual responsibility in caring for our planet. No one person can solve the environmental challenges of our community; but everyone can do something. Consume less. Recycle more. Decrease your individual footprint when it comes to our finite resources. Encourage the same in others. Those little steps help empower entire communities to improve their environmental health.
Find out more about how to make our community "green" and enjoy some Foothills beer at the PEA Annual Party November 15 from 6-8PM.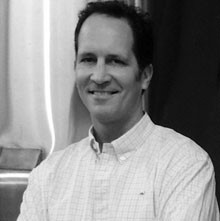 Foothills "marketing guy" Ray Goodrich started his career as a marine mammal trainer at Sea World. Then he won a bunch of Emmys producing college football on TV. Along the way he found time to run 7 marathons. Now he talks about beer for a living. We figure after this he's going to be a weatherman in Hawaii. It's the only perfect job he hasn't had yet.